blóm + blóð
Abstract
Video stills from the 8-minute video, entitled, blóm + blóð, produced during a residency at the Icelandic Textile Centre (Blönduós) in September 2016.
blóm + blóð presents performance as embodied research, in the landscape as laboratory/studio.
The artist navigates the autumnal terrain of Norðurland vestra, collecting natural dye and fibre stuffs, using landscape elements as tools for making, and experimenting with flora and fauna in the creation of a textile work. The end (textile) result is never shown, the emphasis being on process as the creative work in focus, and the acquisition of new knowledge as one of the results. Utilizing the landscape as a laboratory means more than simply the outdoor acquisition of art/craft materials – it mobilizes human empathy (through experiential learning) in gaining an ecological awareness of the source of materials one works with, fostering a working relationship with the environment and its agents.
The video plays with notions of temporality and labour, but also with ideas of material agency, in terms of Jane Bennett's, Vibrant Matter, where "efficacy or agency depends on the collaboration, cooperation, or interactive interference of many bodies and forces."
In the video, a deliberate romanticization of landscape (as within the landscape tradition in art, as well as touristic notions of place) is disrupted by the practical necessities of Icelandic life, such as the sheep slaughter. Likewise, engagement with the messiness of the body is embraced as necessary on the path towards aesthetic outcome. The hegemonic notion of studio space, as isolated and hidden rooms where masterpieces are hatched, is subverted as the creative process is literally exposed.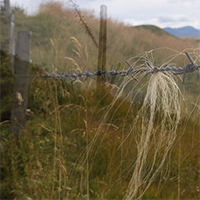 Downloads
How to Cite
Hunter, W. (2018). blóm + blóð. InTensions, (9). https://doi.org/10.25071/1913-5874/37403